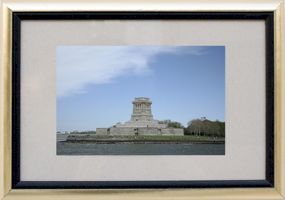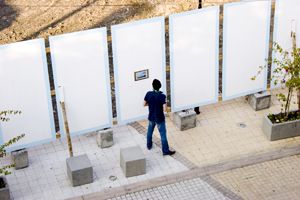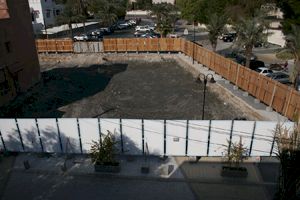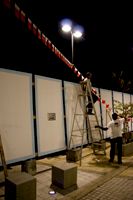 Basementality (Exempted framework / 1:100 / weak paradigm)

framed inkjet print, construction fence
sandscupture, water, gallery staff, 2010

A framed picture shows Liberty Island. The statue of liberty was erased from the picture. Only the basement is left. It hangs on a construction fence, which surrounds an area in opposite to the show room which spends the sand for a 1:100 model of the pedestral inside the gallery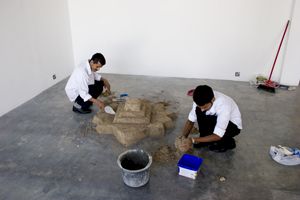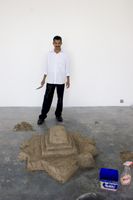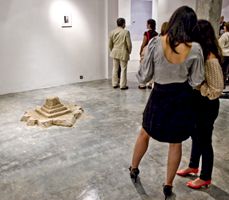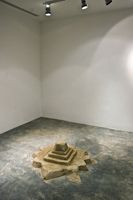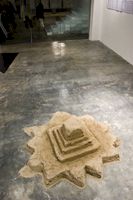 The sculpture keeps it's form as long as it gets cultivated by the gallery staff. If it dries out, it slowly breaks down during the exhibition.
Beautiful skyline in midnight moonlight – Bahrain

sponge cloth, digital photograph, google earth, 2010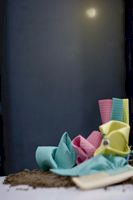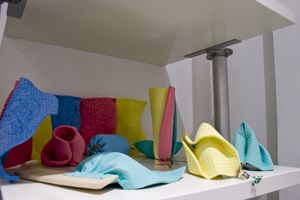 A digital photograph pretends to be the picture of a beautiful skyline in the midnight moonlight of Bahrain. It got tested and denied to be get tagged by Google maps to the citymap of Manama - Bahrain. The architectur like models were made out of used and dried kitchen cleaning sponge cloths and placed into a shelf at the gift shop of the gallery (Al Riwaq Art space) during an exhibition in Manama.




"Minimal/Maximal" - The exhibition is based on the concept of maximal effects being reached through minimal causes. The tension between minimal and maximal has been explored from all angles, from formal or concrete to more conceptual or abstract solutions.
This concept 'Minimal/Maximal` arises from thoughts concerning content as also pragmatism: the tension between mass reduction and spacial extention represents on one hand a device to deal with space, on the other hand a stategy to minimalise transport costs and geographical distance.
The exhibition will open on the 11th of December at 19 pm at Al Riwaq Art Space and will be running through Wednesday 12th January.
Participating artists:
Emma Björnespaar; Katja Burlyga; Miriam Christof; Lara Dorsett; Lonny Fechner; Léa Gilloire; Lola Göller; Sandra Krause Gomez; David Iselin-Ricketts; David Kröll; Simon Jung; Mari Matsutoya; Christoph Medicus; Alessandro Reichmann; Ricarda von Ribbek; Lysander Rohringer; Francisco Rozas; Mike Ruiz; Fiene Scharp; Gregor Schneider; Gon Seok; Lidia Sigle; Diana Sirianni; Flavia Spichtig; Luca Vanello; What´s
About Al Riwaq - Al Riwaq Art Space is a not- for-profit space supporting contemporary art practice and encouraging the youth's creativity. Its vision is to promote creativity and art value providing the artists and the public with a platform to exchange ideas, provoke intellectual debate, inspire and develop creative thinking as well as foster cultural production.
By nurturing a strong relationship between art and society through its programs, it aims at encouraging and supporting creativity and thought-provoking art.
By planning a series of events and courses specifically tailored to students of all ages, Al Riwaq Art Space intends to establish a fruitful and enduring relationship with the youth and its educators.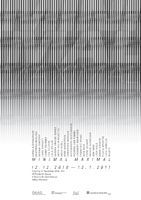 Al Riwaq Art Space, Manama, Bahrain