Come get some left for dead to call of duty free real life affects.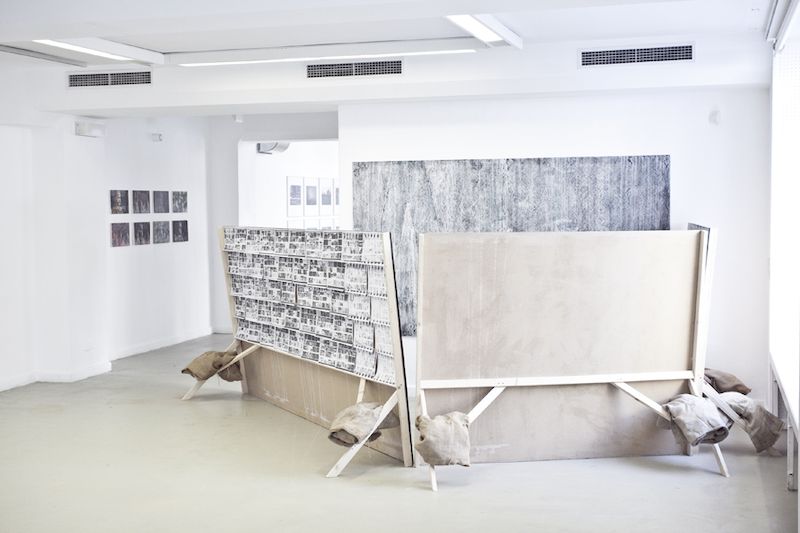 (Arena)

Holz, Tafellack, Kreide, Schwamm, Tintenstrahldrucke, Sandsäcke Wood, blackboard laquer, chalk, swamp, water, inkjet prints, sandbags, Ca.350 x 220 x 140 cm 2012/2014

Die vier Wörter "AUF IN DEN KAMPF" sind auf die Innenseiten lackiert und unter einer Kreideschicht verborgen. Diese kann während der Ausstellung von den Besuchern mit einem Schwamm bearbeitet werden. Auf der Außenseite befindet sich eine Sammlung aller Google Bildersuchergebnisse der Schlagwörter (AUF IN DEN KAMPF), abgerufen während der Entstehungszeit der Arbeit.

Four blackboards saying "AUF IN DEN KAMPF" (GO IN AND WIN) are covered by a fragile surface of chalk. The slogan is painted with blackboard paint onto the walls, but stays invisible, until visitors enter and start to make moves on the surface. The installation offers a wet swamp to break down the chalk layer and get some insights under the surface. On the outside wall sticks a collection of all google image search results, using the keywords "AUF IN DEN KAMPF" and requested during the developement of the work.
DRUG FX : Duty-free real life affects. - Ink jet printed and folded paper plane, 2011

Click here to download the text. Print it out, fold the paper to an airplane and throw it out of the window into your neighbors appartment, into the street or into any exhibition.
Downloaden sie hier per Knopfdruck den Text. Drucken sie diesen auf ein Din A4 Papier. Falten sie ein Flugzeug und werfen sie es durch das Fenster in die Wohnung des Nachbarn, auf die Straße oder in eine beliebige Ausstellung.