Oil of yours can come and go (tug / suck / hug / fuck / mug / plug) yourselfs.
(Schwarzgold)

Various found plastic objects | Wood, oilcolours, laquer | Ca. 120 x 60 x 60 cm, 2014
In this series, mass-industrial produced everyday objects found on the street are being defunctionalized with hand-made adapters. The turned elements, which are reminiscent of black oily drops, symbolically turn round the consumption cycle. They point back to the origin of plastic things as wood which has been pressed to oil – before the industrial forming by the hands of men. The confrontation of functionality and symbolic presence as sculpture equals the confrontation of the materials used. Wether this cycle is an eternal one remains to be seen.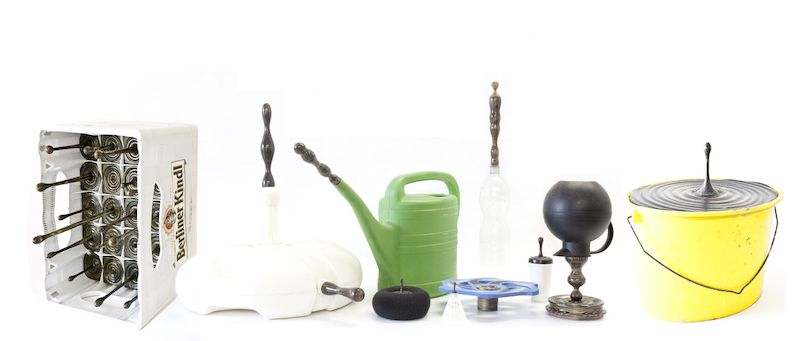 Auf der Straße gefundene, massenindustriell hergestellte Gebrauchsgegenstände sind durch handgefertigte Adapter defunktionalisiert. Die an schwarze ölige Tropfen erinnernden, gedrechselten Elemente drehen den Verbrauchskreislauf symbolisch um. Sie verweisen zurück auf den Ursprung der Objekte, als zu Öl gepresstes Holz, vor ihrer Formung für die Industrie durch den Menschen. Dem Gegenüber von Funktionalität und symbolischer Pr%auml;senz als Skulptur entspricht also auch ein Gegen%uuml;ber der verwendeten Materialien. Ob dieser Kreislauf ein unendlicher ist, bleibt abzuwarten.